Very Nice Standard Department of Kansas G.A.R. or Grand Army of the Republic Badge - w/Sunflower Drop

NEW !
Here is a Fine Condition "Official Dept. of Kansas" G.A.R., Grand Army of the Republic, Membership Badge ! It's the pattern with a dark bronze top bar that measures about 1.75 inches wide and reads, "Official Dept. of Kansas Badge." Hanging underneath is a nice maroon ribbon with a gilded sunflower shaped drop that is about 1.375 inches in diameter, and the whole badge measures about 3.5 inches long. The reverse shows the standard pin clasp still nicely intact, and a maker's mark of "J. K. Davison, Phila." Just a Fine Displaying G.A.R. Dept. of Kansas Member Badge !

$55 plus shipping



Nice ca. 1912-1959 48 Star U.S. Parade Flag on Original 32 Inch Staff - G.A.R. Parades, WWI, WWII Parades

NEW !

Here is an Excellent 48 Star U.S. Parade Flag, ca. 1912 to 1959, that would have been waved at Grand Army of the Republic, or G.A.R., Parades, as well as possibly Post WWI or WWII Parades ! The flag itself measures about 16.5 inches wide, by 11.25 inches high, on a 32 inch long wooden stick or dowel with a pointed, gold painted finial at the top. The flag is printed on coarse cotton, with sewn fringes on the top and outer edges. The gold finial shows lots of wear and fading color, and the bottom of the stick shows discoloration from being handled. The flag itself has some minor staining but nothing major, and still displays beautifully. These used to be common, but are getting hard to find now. A Superb 48 Star U.S. Parade Flag, that likely waved at Grand Army of The Republic, G.A.R. Reunions & Parades !

$50 Shipping Paid



Nice ca. 1880-1920 G.A.R. or Grand Army of the Republic "Pillbox" Style Cap w/GAR Side Buttons, Padded GAR Badge, and Gold Lined Strap - Maker Marked

Here is a Neat ca. 1880-1920, G.A.R. or Grand Army of the Republic, "Pillbox" style hat or cap ! If you've ever seen any of the old black & white, Movie Tone newsreels, you've seen some Veterans wearing headgear exactly like this. It is a small size and will not fit my big head, but looks great on a manikin head. This one was manufactured by the Henderson Ames Company, who made a good deal of Veterans items, and is so marked on both the top inside of the cap, and embossed on the inner leather band. It has a worn gold lined band around the outer bottom of the body, GAR cuff size buttons on each end of the band, and a GAR Hat Badge, on a felt backing on the front. It is mostly in good condition with one old tear near the top right seam that is about 1.75 inches long, but is just proof of age, and doesn't seriously detract from the Hat's display. A Fine Displaying G.A.R. Pillbox Cap !

[ Manikin Head NOT Included ]

$239 plus shipping



Grand Army of The Republic or G.A.R. White Cotton Waist Belt & Gilt Buckle

Here is a Fine Original Grand Army Of The Republic, or G.A.R. Waist Belt & Buckle ! I just sold the last one I had a month or so ago, then found this one. The belt is white cotton in good shape though it's showing some dirt and minor staining and a couple of small areas where the fabric is fraying. The buckle & keeper show a generous amount of gold gilt remaining front and back, with a few small areas of discoloration on the front. I think this would fit a waist size of about 32 inches. You often see these rigs with the white cotton belt in post war images of veteran's reunions. A Fine G.A.R. Waist Belt & Buckle that Displays Great !

$99 plus shipping



Nice Musket Shaped Silver Plated Spoon Souvenir From the 1894 National Encampment of the G.A.R. in Pittsburg, Pennsylvania.

Here is a Fine & Uncommon Silver Plated Spoon from the 1894 G.A.R. National Encampment in Pittsburgh, Pennsylvania. It still retains 95% or more of it's original silver plate though it has some tarnished areas. The top of the handle has the words, "28th National Encampment. 1894 GAR" in raised letters. The bowl has a unique raised crest showing an Engineer's Castle, a shield with three eagles, and the bayonet of the musket handle. The spoon measures right at six inches long with a typical table size bowl. Just a Super Nice & Uncommonly Seen Souvenir of the 28th National Encampment of the Grand Army of the Republic in Pittsburgh !

$65 plus shipping



Nice Cabinet Card View of John R. Bird, Co. D, 18th Indiana Infantry & Post War G.A.R. Member - The Regiment fought at Pea Ridge, before moving to the Western Theater.

Here is a Nice ca. 1880's Cabinet Card Photograph of former 18th Indiana Infantry Private, and Grand Army of the Republic Member, John R. Bird ! The image shows Bird posed standing, one arm on a high table where his bowler style hat rests, wearing a GAR coat, vest, and officer pattern badge. He is obviously an older man and looks to be gazing at the floor. The mount shows a gold border and is just slightly bowed upward on the outside edges. Image itself is clear with light contrast and one area of discoloration on the edge near Bird's elbow.

John R. Bird was born 1822, and a 39 year old veteran of the Mexican War when he enlisted in the 18th Indiana Infantry in August, 1861. He served with the regiment thru the entire war, and post war was a member of the Gordon Post of the G.A.R. at Benham, Indiana, serving as one of two delegates from that post to the State Reunion in 1887. Bird and the 18th Indiana regiment saw their first serious engagement in my backyard at the Battle of Pea Ridge, Arkansas, in March, 1862. Serving in the eastern theater for most of the rest of the war, the regiment participated in the battles at Port Gibson, Champion's Hill, Big Black River, Vicksburg, Opequan, Fisher's Hill, & Cedar Creek, among others. A Fine Displaying ID'd Indiana Veteran & G.A.R. Members Cabinet Card !

$49 plus shipping



Lieutenant/Captain Charles Birnbaum, Co. D, 36th Iowa Infantry - Post War Birnbaum eventually moved to Arkansas, after having served there during the war.

Here is an Excellent Post War Cdv of Captain Charles Birnbaum, Co. D, 36th Iowa Infantry, in

his GAR Uniform

! Though a post-war image, it is indeed a Cdv measuring about 4 inches tall by 2.5 inches wide. Birnbaum's image is well focused, though a little light and his GAR Member Badge is easily visible on his coat. I almost think he may have a glass eye, as his stare is unusual. Bottom of the black mount underneath his image is the photographers attribution of "T.W. Townsend – Iowa City, Iowa." The green back of the mount is blank except for the name, Charles Birnbaum in pencil at the top.

Birnbaum joined the 36th Iowa as a 2nd Lieutenant mustering out as Captain. The regiment fought at Helena, Prairie D'Ann, and Mark's Mills, Arkansas, among several other engagements. Birnbaum was listed as a POW at Mark's Mills, but eventually exchanged. He must have seen something in Arkansas he liked though, as several years after the war, he moved to Hot Springs, Arkansas. A Fine GAR Image of a 36th Iowa Infantry Officer !



Nice Group of Four Consecutive Year Kansas G.A.R. Ribbons/Badges - 1932 - 1935


Here is a Nice Group of Kansas G.A.R. Ribbons for Four State Encampments on Consecutive Years ! They include: The 52nd Annual Encampment, Dept. of Kansas at Wichita, in 1932, the 53rd at El Dorado, in 1933, the 54th at Emporia, in 1934, and the 55th at Kansas City, in 1935. Each ribbon is vertical red, white, and blue stripes with a gold G.A.R. logo at center, and the Reunion dates and location in gold at the bottom. Each has a gold frame top bar, and three with paper insert where the veteran could have written his name, though there are no names. Including the top bar, each ribbon measures about 4.5 inches long, by 1.6 inches wide. All have fraying at the bottom, and three of the four have some horizontal blemishes, though none are coming apart and they all still display very nicely, retaining good color. There were in a tiny collection of Kansas G.A.R. Ribbons, and I hate to break them apart, as it seems likely that one veteran made the effort for each of those four hard years during the depression, to attend the State Reunions, no matter the location. A Nice Instant Collection of Kansas Grand Army of the Republic, G.A.R. Ribbons !

$60 plus shipping



1937 Ottawa, Kansas, G.A.R. Badge/Ribbon

Here is a

Beautiful Department of Kansas G.A.R. Encampment Ribbon

! It has a stamped brass top bar, with a red, white, and blue vertical swallowtail ribbon drop. Gold text on ribbon reads,"57th Annual Encampment – Dept. of Kansas G.A.R. – Ottawa May 10-13, 1937," with a gold G.A.R. star centered. Ribbon with top bar measures about 4 inches long, by 1.6 inches wide. Some very minor fraying at bottom, but otherwise entire piece is in excellent condition. It displays very nicely. An Uncommon Trans-Mississippi Kansas Union Veteran's Badge !

$25 plus shipping



1929 Emporia, Kansas, G.A.R. Badge/Ribbon

Here is a Grand Army of the Republic, G.A.R. Ribbon for the 48th Annual Encampment of the

Dept. of Kansas

! It's a little bit rough and showing its age, but is still a nice displaying Trans-Mississippi Veteran's Ribbon. Stamped brass top bar has a border of stars, and paper inset for Veteran's name. Ribbon shows vertical red, white, and blue, with a gold G.A.R. Badge logo in center. Gold text near bottom reads, "48th Annual Encampment – Dept. of Kansas – Emporia – May 14-15-16, 1929." Bottom edge shows fraying, and there are several horizontal tears in ribbon, though original backing keeps it from separating. Reverse shows that backing and at the bottom a paper label denoting manufacturer as St. Louis Button Co. Entire piece measures about 4.5 inches long, with ribbon being 1.6 inches wide, and top bar about 2.0 inches wide. A little rough, but still an

Uncommon Trans-Mississippi Kansas Veteran's G.A.R. Badge !

$25 plus shipping



Sept. 24th, 1900, Headquarters Department of Arkansas - Grand Army Of The Republic Document - Springdale, Arkansas [Unlike my photo, the actual item is sharp and clear.]

Here's a

Really Neat & Exceptionally Rare Arkansas GAR


Document

! Anything Arkansas GAR related is Extremely Hard


to find

, as the State raised over 200 Confederate Fighting Units,
but only 4 Regiments of Union Troops ! This document is dated
September 24, 1900, at "Headquarters Department of Arkansas"
Springdale, Arkansas.

It concerns the court martial of one Silas
K. Robinson, and his dishonorable discharge, an upcoming
inspection of all department posts, and elections in December.
Also mentions that, "Comrades our ranks are thinning fast."
Endorsed by Department Commander, A.L. Thompson.
Appoximately 8.5 x 11, with paper and print in great shape,
and GAR Membership Badge imprinted in upper left corner.
A Rare Arkansas Grand Army Of The Republic


Document !


$80

plus shipping






Nice ca. 1880-1900 Twisted Gold Brown & Black Hat Cord For Veterans GAR or UCV Hats

If you've

got a Bare GAR or UCV Hat, Here is the ca. 1880s-1890s Cord you Need to Spruce it

up

! It's a Nice Black and Gold entwined cord with one Acorn still present and one missing, but will still be better than no cord at all. I have seen almost this exact cord on several veteran's hats, both GAR and UCV. Basically this one is in Very Good Shape, except for that missing acorn, good color, good integrity, and still limber. It's a black, brown, and gold color with very fine sewing on the acorn.

If this was complete with both acorns it would run nearly $200, But this Hat Cord is priced to sell !



Nice Gold Gilded ca. 1880s-1900 Confederate Veteran's CSA Waist Belt Plate


Here is a Fine Confederate Veterans CSA Waist Belt Plate ! Judging by the construction, it dates from 1880 to about 1910. In many respects it is very similar to a ca. 1880's Militia plate, with wire fastened applied letters, wide soldered tongue, and soldered belt bar. Once gilded, it still shows a good amount of that gilt remaining, maybe 40-50%. It measures about 83mm wide by 53mm vertical. It is a clipped corner plate with the corners all being turned down a bit. It is a well made plate, and there is no doubt in my mind, that it was produced for Confederate Veterans to wear at Reunions and Parades. A Fine Displaying CSA Waist Belt Plate that will be right at home in Your United Confederate Veterans, or UCV Collection !

SOLD



Fine Ribbon for the 4th Reunion of the 19th Iowa Infantry, U.S., held at Wapello, Iowa, in 1888.

Here is a Nice Reunion Ribbon for the 19th Iowa Infantry Reunion in 1888, at Wapello, Iowa ! The salmon colored ribbon has the dates 1863 & 1888 at the top, an eagle below, and below that the words, "Fourth Reunion – 19th Iowa – Sept. 26 & 27, at Wapello, Iowa – 25th Anniversary - Battle of Sterling Farm in Louisiana." The 19th Iowa Infantry was organized in Sept. of 1862, and its first battle was at Prairie Grove, Arkansas, Dec. 7th, 1862, where the regiment took considerable casualties near the Borden House. The 19th went on to participate in the Siege of Vicksburg, Capture of Yazoo City, the Battle of Sterling's Plantation, the Siege of Spanish Fort, and Fort Blakely, among other actions.

The ribbon measures approximately 6.25 inches long by 1.875 inches wide, with some fraying at top and bottom. The black print against the salmon ribbon still displays very well.

An Uncommon Reunion Ribbon from a Federal Unit that served in the Trans-Mississippi Department, and fought at the Battle of Prairie Grove !

SOLD



CLICK HERE TO VIEW THE ARKANSAS VETERAN'S REUNION IMAGES

Arkansas Reunion Button at left takes you to the Arkansas Veteran's Reunion Images, I formerly had on the homepage. Just hate to completely remove those soldier images. Most of the images are of members of the

34th Arkansas Infantry

, our NW Arkansas Boys, just got gray beards by the turn of the century !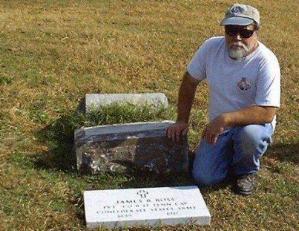 Jack Ferguson helping me set a V.A. Stone for a Civil War Soldier.
Website powered by Network Solutions®