Fine 11 x 17 inch "Welcome G.A.R." Banner still retaining Vivid Colors and minimal staining

NEW !
Here is a Beautiful Grand Army of The Republic, or G.A.R. Banner ! It says, "Welcome", at the top, with a depiction of the G.A.R. Member Badge underneath, and "G.A.R." at the bottom. Measuring about 11 inches wide, by 17 inches tall, the multi colors still show very well. There is only very slight staining, almost not noticeable, and just a few minor creases. Either a very tight weave cotton, or linen, I think they are linen. These used to be fairly common, but are difficult to find anymore. They look superb framed and matted, and I actually have one in my own relic room. [ Last Picture at the Bottom] A Fine Grand Army of The Republic, or G.A.R. Welcome Banner, that would have once hung in a Post, or even displayed at a Reunion !

$250 plus shipping



Nice Cabinet Card Image of Private Hugh McCoy, Co. C, 104th Ohio Infantry - Wounded Three times at the Battle of Franklin, Tennessee.

Here is a Fine Post War Cabinet Card Image of Hugh McCoy, a Private in Company C, 104th Ohio Volunteer Infantry during the war ! The mount and image are in fine shape, with only very minor staining. The focus is a tiny bit soft, but McCoy is still clearly seen, seated with his left leg crossed, one crutch leaning on the left side of the chair, and the other in McCoy's right hand. There is an impressed photographer's mark at the bottom right of the mount that says, "Dabb 518 Market St." The reverse of the mount shows in pencil at the top left, "Brother of Ellen Thornton" and in pencil at the bottom, "Hugh McCoy Co. C 104th Ohio."

McCoy enlisted in Company C just before the 104th Ohio Volunteer Infantry was mustered, in August of 1862. The 104th Ohio and Hugh McCoy were in Georgia for the Atlanta Campaign, the fighting at Rocky Face Ridge, Resaca, Dallas, New Hope Church, Kennesaw Mountain, Peach Tree Creek, Utoy Creek, and Jonesboro. Following Hood's movement north, the regiment also fought at Columbia, Tennessee, and the Battle of Franklin, where Private McCoy was wounded three times, in his right leg, right hip, and right arm.

I bought this image in an auction lot and did not know until I received it that the previous owner had made a thick paper backing with McCoy's name, rank, company, regiment, and wounded status nicely printed at the top, and little plastic inserts for the corners of the card. A Fine Displaying Cabinet Card Image of an Ohio Veteran, definitely in the thick of the fight at the Battle of Franklin !

$95 plus shipping



Nice G.A.R. or Grand Army of the Republic Group with Two Hat Badges and Lapel Pin

Here is a Nice Little Group of Original Grand Army of the Republic, or G.A.R. Items ! It includes one standard G.A.R. Lapel Pin, one stamped brass G.A.R. Hat Badge with intact pin on the reverse, and one wool or felt Hat Badge with wreath, that once also had the letters G.A.R. in the middle of the wreath. Three Great Displaying Grand Army or G.A.R. Pieces ! [ L.L. ]

$90 plus shipping



Grand Army of The Republic or G.A.R. White Cotton Waist Belt & Gilt Buckle

Here is a Fine Original Grand Army Of The Republic, or G.A.R. Waist Belt & Buckle ! I just sold the last one I had a month or so ago, then found this one. The belt is white cotton in good shape though it's showing some dirt and minor staining and a couple of small areas where the fabric is fraying. The buckle & keeper show a generous amount of gold gilt remaining front and back, with a few small areas of discoloration on the front. I think this would fit a waist size of about 32 inches. You often see these rigs with the white cotton belt in post war images of veteran's reunions. A Fine G.A.R. Waist Belt & Buckle that Displays Great !

$99 plus shipping



Fine Original Numbered G.A.R. or Grand Army of the Republic Membership Badge

Here is an Excellent Original G.A.R., or Grand Army of the Republic Membership Badge ! It's the pattern that is numbered on the edge, and this one is number P34244. It retains its original ribbon in good condition, a good bit of its gold gilt, and the attachment pin on reverse is still present and operational. The reverse of the top bar shows a "camp kettle" scene with the patent dates of "May 4, 1886 & June 22, 1886." An Excellent Condition and Great Displaying G.A.R. Membership Badge !

$120 plus shipping



Fine G.A.R. or Grand Army of the Republic, Numbered Membership Badge

Here is a Nice Original Grand Army of the Republic, or G.A.R. Standard Membership Badge ! It's the pattern that is numbered on the edge, with this one being number B60355. It has a correct replacement ribbon that looks great, and the top eagle and bottom star drop still show remnants of gold gilt. The reverse shows the original attachment pin still present and operational. The Union Veterans who made up the G.A.R. numbered over 400,000 members by the turn of the last century, and their support was often sought by political candidates. A Fine Original G.A.R. Membership Badge !

$100 plus shipping



Nice ca. 1912-1959 48 Star U.S. Parade Flag on Original 32 Inch Staff - G.A.R. Parades, WWI, WWII Parades

Here is an Excellent 48 Star U.S. Parade Flag, ca. 1912 to 1959, that would have been waved at Grand Army of the Republic, or G.A.R., Parades, as well as possibly Post WWI or WWII Parades ! The flag itself measures about 16.5 inches wide, by 11.25 inches high, on a 32 inch long wooden stick or dowel with a pointed, gold painted finial at the top. The flag is printed on coarse cotton, with sewn fringes on the top and outer edges. The gold finial shows lots of wear and fading color, and the bottom of the stick shows discoloration from being handled. The flag itself has some minor staining but nothing major, and still displays beautifully. These used to be common, but are getting hard to find now. A Superb 48 Star U.S. Parade Flag, that likely waved at Grand Army of The Republic, G.A.R. Reunions & Parades !

$50 Shipping Paid



Nice Cabinet Card View of John R. Bird, Co. D, 18th Indiana Infantry & Post War G.A.R. Member - The Regiment fought at Pea Ridge, before moving to the Western Theater.

Here is a Nice ca. 1880's Cabinet Card Photograph of former 18th Indiana Infantry Private, and Grand Army of the Republic Member, John R. Bird ! The image shows Bird posed standing, one arm on a high table where his bowler style hat rests, wearing a GAR coat, vest, and officer pattern badge. He is obviously an older man and looks to be gazing at the floor. The mount shows a gold border and is just slightly bowed upward on the outside edges. Image itself is clear with light contrast and one area of discoloration on the edge near Bird's elbow.

John R. Bird was born 1822, and a 39 year old veteran of the Mexican War when he enlisted in the 18th Indiana Infantry in August, 1861. He served with the regiment thru the entire war, and post war was a member of the Gordon Post of the G.A.R. at Benham, Indiana, serving as one of two delegates from that post to the State Reunion in 1887. Bird and the 18th Indiana regiment saw their first serious engagement in my backyard at the Battle of Pea Ridge, Arkansas, in March, 1862. Serving in the eastern theater for most of the rest of the war, the regiment participated in the battles at Port Gibson, Champion's Hill, Big Black River, Vicksburg, Opequan, Fisher's Hill, & Cedar Creek, among others. A Fine Displaying ID'd Indiana Veteran & G.A.R. Members Cabinet Card !

$45 plus shipping



Lieutenant/Captain Charles Birnbaum, Co. D, 36th Iowa Infantry - Post War Birnbaum eventually moved to Arkansas, after having served there during the war.

Here is an Excellent Post War Cdv of Captain Charles Birnbaum, Co. D, 36th Iowa Infantry, in

his GAR Uniform

! Though a post-war image, it is indeed a Cdv measuring about 4 inches tall by 2.5 inches wide. Birnbaum's image is well focused, though a little light and his GAR Member Badge is easily visible on his coat. I almost think he may have a glass eye, as his stare is unusual. Bottom of the black mount underneath his image is the photographers attribution of "T.W. Townsend – Iowa City, Iowa." The green back of the mount is blank except for the name, Charles Birnbaum in pencil at the top.

Birnbaum joined the 36th Iowa as a 2nd Lieutenant mustering out as Captain. The regiment fought at Helena, Prairie D'Ann, and Mark's Mills, Arkansas, among several other engagements. Birnbaum was listed as a POW at Mark's Mills, but eventually exchanged. He must have seen something in Arkansas he liked though, as several years after the war, he moved to Hot Springs, Arkansas. A Fine GAR Image of a 36th Iowa Infantry Officer !



Nice ca. 1880-1900 Twisted Gold Brown & Black Hat Cord For Veterans GAR or UCV Hats

If you've

got a Bare GAR or UCV Hat, Here is the ca. 1880s-1890s Cord you Need to Spruce it

up

! It's a Nice Black and Gold entwined cord with one Acorn still present and one missing, but will still be better than no cord at all. I have seen almost this exact cord on several veteran's hats, both GAR and UCV. Basically this one is in Very Good Shape, except for that missing acorn, good color, good integrity, and still limber. It's a black, brown, and gold color with very fine sewing on the acorn.

If this was complete with both acorns it would run nearly $200, But this Hat Cord is priced to sell !



Beautiful Originally Framed 1922 United Confederate Veterans, UCV Badge

Here is an Excellent Framed United Confederate Veterans, or U.CV. Badge from the 32nd Annual Reunion, in 1922, at Richmond, Virginia ! The Top Bar depicts a mounted Stonewall Jackson on a pedestal, with the words, "Richmond" to the left and "Virginia" to the right. The shield shape drop has "United Confederate Veterans" at the top edge, with a depiction of Jefferson Davis' White House, and the words, "White House of the Confederacy" on a banner below that. Centered is a large building that says, "Confederate Memorial Institute" under it, and at very bottom, a Confederate Battle Flag with most of its red and blue enamel still remaining. Left edge says, "32nd Reunion" right edge says, "June – 1922." The reverse shows attachment pin still intact and functional, and both Top Bar and drop are maker marked by Whitehead & Hoag. The badge came mounted in a neat little oval frame, that I think is probably as old as the badge. It has a gold gilded brass outer frame, with yellow inner background, and you can tell the badge has been in it forever. The frame measures about 4.25 inches tall by 3.25 inches across. The reverse shows a brown velvet backing, held in the frame with four small pins, and a pull-out so the frame could be stood up on a table or dresser. It also has a gilded oval hanger at top, so that it could also be hung on the wall if desired. A Fine Displaying 100 year old U.C.V. Badge, in a Gilded Frame probably as old as the Badge Itself !

SOLD



Nice Musket Shaped Silver Plated Spoon Souvenir From the 1894 National Encampment of the G.A.R. in Pittsburg, Pennsylvania.

Here is a Fine & Uncommon Silver Plated Spoon from the 1894 G.A.R. National Encampment in Pittsburgh, Pennsylvania. It still retains 95% or more of it's original silver plate though it has some tarnished areas. The top of the handle has the words, "28th National Encampment. 1894 GAR" in raised letters. The bowl has a unique raised crest showing an Engineer's Castle, a shield with three eagles, and the bayonet of the musket handle. The spoon measures right at six inches long with a typical table size bowl. Just a Super Nice & Uncommonly Seen Souvenir of the 28th National Encampment of the Grand Army of the Republic in Pittsburgh !

SOLD



Nice Gold Gilded United Confederate Veterans or UCV Waist Belt Plate

Here is an Excellent Original United Confederate Veterans, UCV Waist Belt Plate ! Once heavily gold gilded it still retains a good portion of that gold gilt, both front and back. The keeper and the tongue are still present on the reverse and I imagine you could wear this buckle if desired. It also still has good body curve as you can see in the pictures. The buckle measures about 2.75 inches wide by 2.0 inches tall. Organized on June 10th, 1889, the UCV membership consisted of Southern Veterans who had served the C.S.A. in 1861-1865. They held annual National Reunions, and often local or State Reunions as well. The last National Reunion occurred May 30th – June 3rd, 1951 with but three Veterans attending. A Fine Displaying UCV Waist Belt Plate once worn by a Veteran of the Confederate States of America Army or Navy !

SOLD



CLICK HERE TO VIEW THE ARKANSAS VETERAN'S REUNION IMAGES

Arkansas Reunion Button at left takes you to the Arkansas Veteran's Reunion Images, I formerly had on the homepage. Just hate to completely remove those soldier images. Most of the images are of members of the

34th Arkansas Infantry

, our NW Arkansas Boys, just got gray beards by the turn of the century !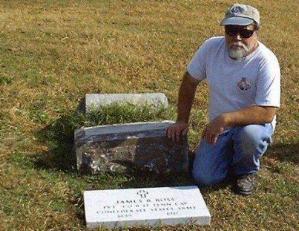 Jack Ferguson helping me set a V.A. Stone for a Civil War Soldier.
Website powered by Network Solutions®