Large Sign at the Entrance to the Prairie Grove Battlefield State Park - The Battle of Prairie Grove, Arkansas, occurred on December 7th, 1862.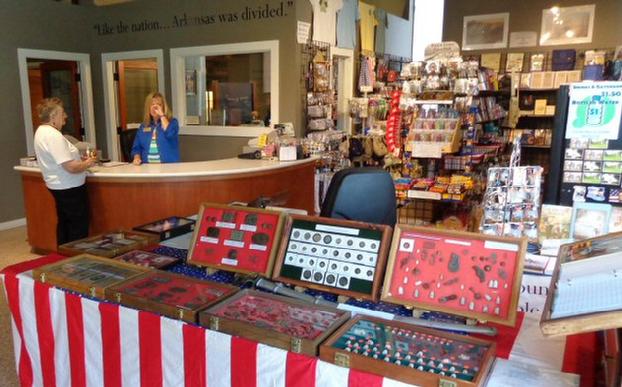 Ann Webb & Cindy Whitehouse visit at the Prairie Grove Battlefield Museum on "Display Day" August 16th, 2015, when Ann and I both had tables of original period artifacts on display for the public.
Ann Webb with her table of Civil War Period Jewelry, Dental Tools, and other Civilian effects. She also has a great collection of period cooking utensils, and Cdvs, not on display on this occassion.
Some of Ann's Jewelry, a Housewife,Traveling Inkwell, Button Polisher, and other artifacts.
Part of Ann's Nice Display of Civil War Period Jewelry.
A Display of Period Spectacles and cases.
One of Ann's Displays of Dental & Other Tools. - Ouch !
A Period "Gentleman's" Thermometer, meant to be worn daily like a Pocket Watch.
One of my Displays of Original Period .69 Caliber Paper Musket Cartridges.
One of my Displays of Dug Union Plates & Buckles Recovered in Arkansas & Missouri.
Dug Miscellaneous items including a flagpole finial, suspender buckles, pocket watch keys, toe taps, slinghooks, spur parts, canteen stoppers, etc.
1862 Manufactured S&W No. 1 Revolver in one of my Displays.
Ann Shows and Explains an Artifact to an interested Park Visitor. I imagine she feels like I do, and finds this the Best Part of Display Days.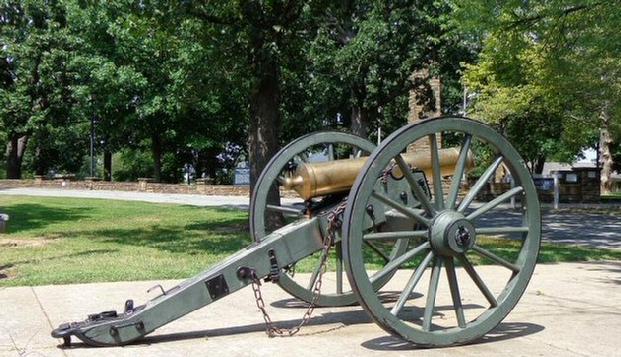 Artillery Piece on Display in Front of the Prairie Grove Battlefield State Park Museum.
Website powered by Network Solutions®