5-23-21 Less than two weeks ago, Rick Steed in South Arkansas, found a nice tinback Confederate Block -I Infantry coat button. He said it was the first Confederate button he had dug in sometime, and noted that it came from a site where he dug a Potsdam musket and a shotgun barrel just a year before. Regulation Confederate buttons are rare here in Arkansas, and it has been almost ten years since I dug my last one. Congrats Rick !!
Rick Steed's Confederate Block I Infantry Button
Rick Steed's Confederate Block I Infantry Button
Potsdam Musket Barrel & Lock, And Shotgun Barrel Rick found near the same site last year.
12-30-18 My Friend, Tom Bowen, Jr., showed up early in December, a few days before he was going to the Franklin, Tennessee, Relic Show. We had one pretty day for digging, a few days after the show and went to a little spot just up the road, where there was a small engagement in 1862. It's a spot that has been picked over by quite a few relic hunters, but large enough for things to be missed. We spent most of the day on the fringes of the known area, finding just a few pieces, but BY GOLLY, if Tom didn't recover a REAL PRIZE ! I found a couple of pistol balls, a fired .58 3-ringer, and a broken reins guide. Tom found a few pistol balls, a piece of costume jewelry, and then nearly a perfect Confederate Cosmopolitan Type II Bullet ! Haven't seen one recovered in several years, and I have to confess, I was green with envy ! I first though of smacking him in the back of the head with my shovel, and then telling his relatives, " . .He just ran off through the woods screaming, and I never saw him again." But, heck I'm not quite that "relic greedy" and besides, it was a spot where Tom had acquired us permission ! So, I let him live. Congratulations Tom, on a Super Nice Trans-Mississippi Bullet ! SB
Scant few relics recovered December 11th, 2018, by Tom Bowen and myself.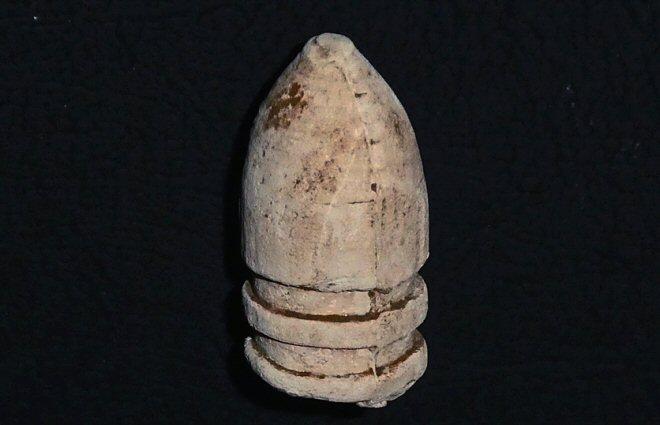 Tom Bowen's Fine Confederate Cosmopolitan Type II Bullet.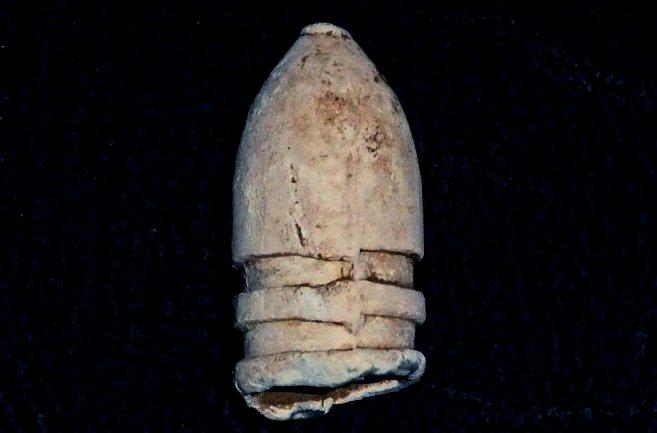 Tom Bowen's Fine Confederate Cosmopolitan Type II Bullet.
12-26-17 Myself & Jack Ferguson finally got started detecting at the end of October, renewing the hunt for a couple of camps we think may still be undiscovered. Temporarily abandoning the suspected Yankee camp area we found early in the year, we focused on the ground where the Confederate one might be. First hunt did not produce the camp, but we did recover several nice relics, mostly bullets- one a CS Austrian, a US bit boss, eagle button, and a few other things. Life intervened for nearly a month, and in mid-December, my friend Tom Bowen was here on his way to the show at Franklin. He and I went out to a skirmish or engagement site he had been working on, and despite a million metal detectors having been there in the past, we found bullets in a new spot. That spot may produce more in the future. A week later, Jack and I renewed our search for the Confederate camp, finally we believe, possibly locating the site. It is extremely overgrown and tough to hunt, but we wanted to scan it once anyway and were rewarded with enough to think we may have found the spot. A week later, we tried again, pushing our coils through the thick overgrowth, and again finding just enough to think we may be on the right track. Some snow, ice, and a little deeper into winter, I think we may have some Real goodies to show off. Hopefully. [Fingers crossed] If not, we will re-focus, and again try and find that Yankee camp we thought we were so close to.
SB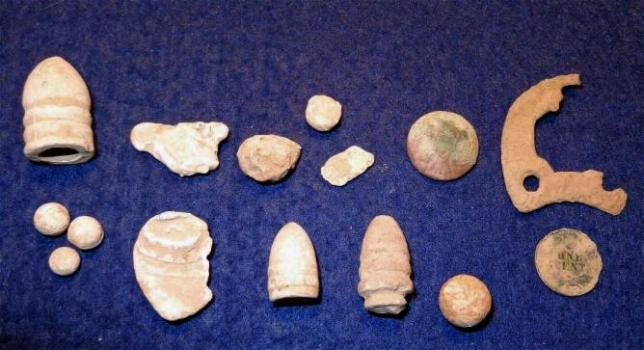 First Recoveries searching for the Undiscovered Confederate Camp
That Big Beautiful .69 Caliber Confederate Austrian found on the initial search, though isolated away from what we think may be the camp area.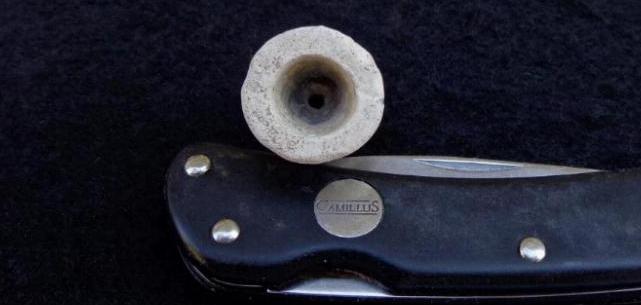 I'll take a dozen please !
U.S. Bridle Bit Boss Recovered by Jack Ferguson at the same site.
As I mentioned above, Tom Bowen and I made a short trip to a hard hunted skirmish site, and recovered several dropped bullets, prompting thoughts of a return trip in the future.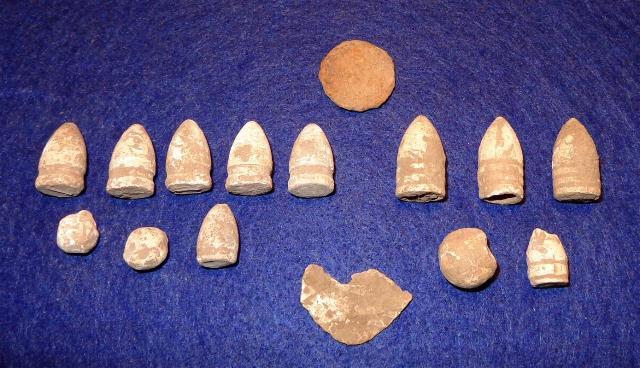 Smith Carbines, three ringers, and a round ball recovered by Tom and myself in December.
Then, on two recent visits to the CS camp area, Jack and I may have found our camp, though it is still very overgrown and hard to hunt. The mixture of items though, along with the many iron signals has us ready to scan again as soon as we have some snow or ice to knock some of the growth down.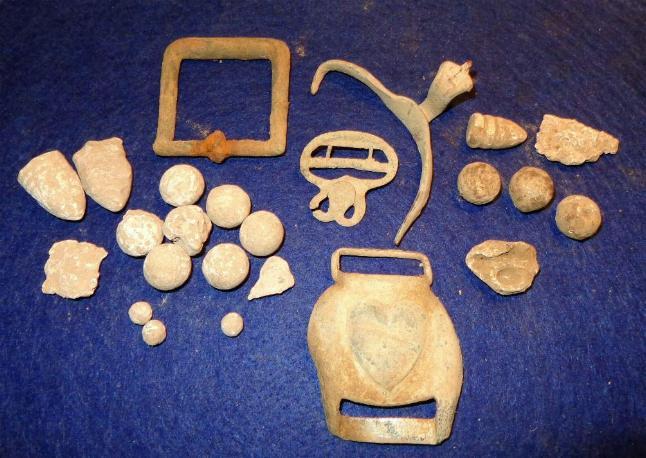 First sign we may have found the right spot.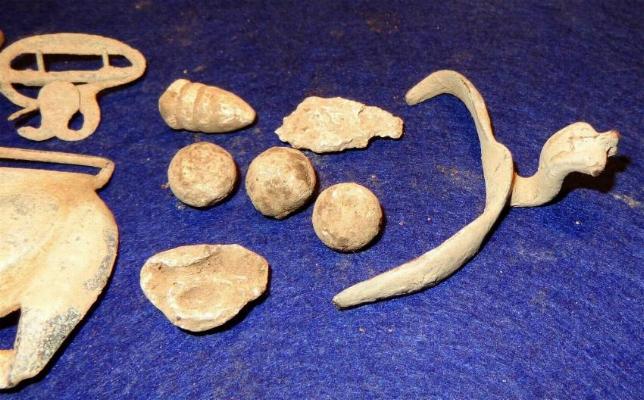 May not seem like much, but you should have seen the vegetation we had to fight to get this stuff.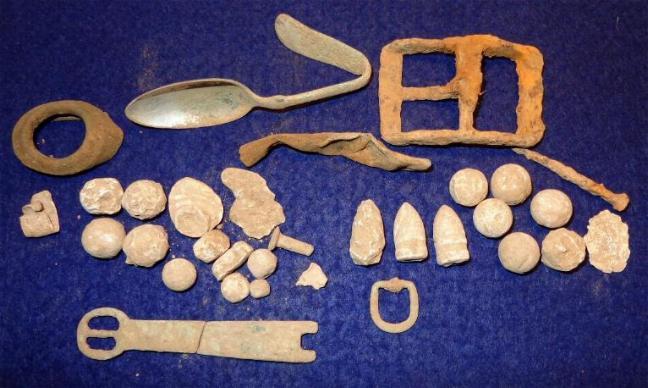 More relics and more encouragement recovered on the second visit, just before Christmas. Can't wait to go again but have to wait for mother nature to cooperate.
Website powered by Network Solutions®