2-21-17 Got a few more relics at the new site and have about figured it out to be a medium size picket post. Just can't seem to make the productive portion of the site to be much larger than about 30 x 50 yards, and outside of that area there are very few signals except farm junk. However, the picket itself is a very good sign that the camp could be within a few hundred yards. Hope to move out and scan the most logical spots about that distance from this site soon. That said, the little picket post was still great fun ! SB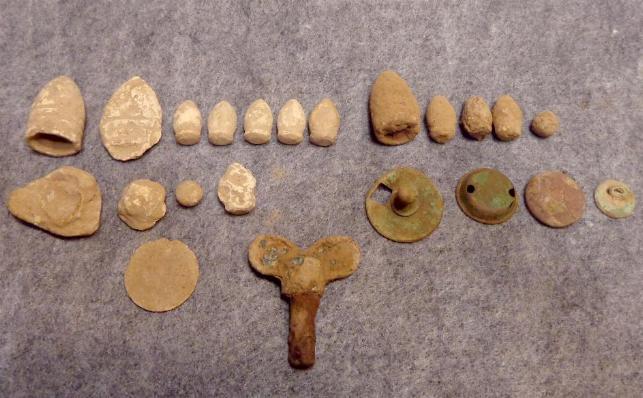 Civil War Relics recovered Feb. 21st, 2017.
February 15th, 2017 I was out last Friday trying to locate a new camp, and near the end of the day I finally found some sign, recovering several of the big .69 caliber minies, a few pistol bullets and some other odds and ends. They were scattered in one area and I originally thought I may have discovered a picket post of the camp. However, after returning Monday, more .69s, a few .58s, and several more of the little "teardrop" pistol bullets surfaced along with a couple of buttons. Now, I am thinking I might be in part of the camp itself. Another visit will be made in a week or so and I should be able to make up my mind after that, whether it is a picket post, or part of the camp I'm looking for. SB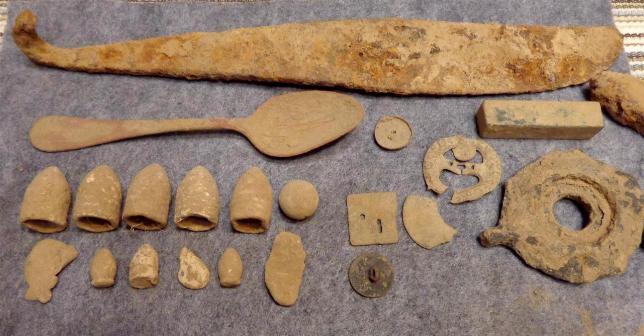 RELICS recovered Friday, February 10th, 2017.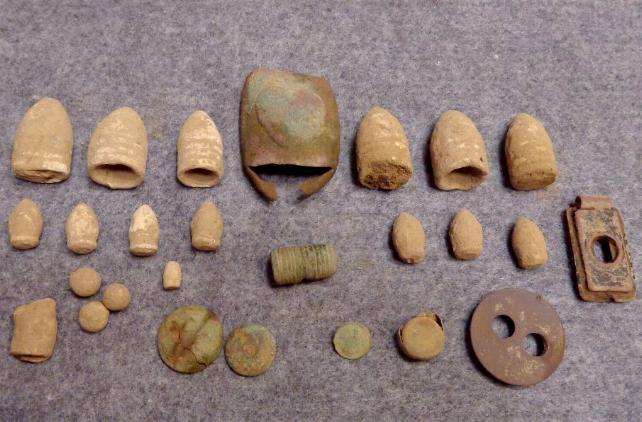 RELICS recovered Monday, February 13th, 2017.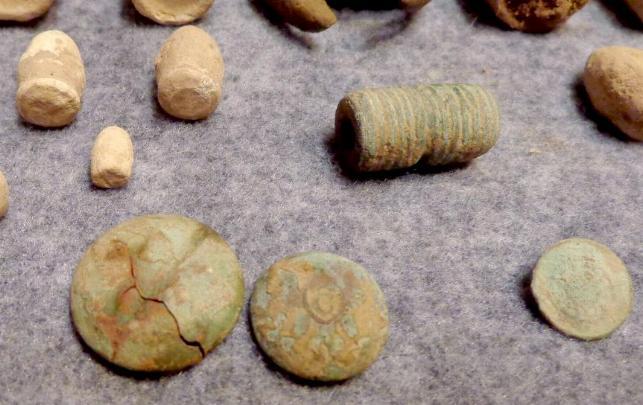 RELICS recovered Monday, February 13th, 2017.
February, 2017 – Most of us locals got a late start digging this season due to the weather and/or projects, however we finally did some detecting. Tom Bowen and I hit a small spot he discovered just before Christmas. It was a fairly long drive and the day we went it was near freezing and windy. We dressed for the weather, but once we arrived at the site it began blowing a light rain on us, which soon turned to freezing rain. However, Tom dug several minies and a bowie blade on a previous visit, and 5 minutes out of the truck on this visit, I dug a .69 minie so we weren't inclined to give up immediately. We managed to last about an hour and though I only recovered three .69 minies, one of them was a real keeper, being a Jenkins Ferry Musketoon bullet. Not long after that Doug Dorothy got out at a different site and among other things dug a brass US bit boss and a Masonic Emblem that may be part of a jewel. Recently, I found a brass butt plate to a civilian rifle in an old camp, while at another old camp, Doug recovered a nice bunch of relics, including an 1854 Seated Half Dollar and several buttons ! A few days ago I discovered an old house site that produced a few items including an iron stirrup, and I'm hoping some coins might pop out next time. Except for the Jenkins Ferry, the Masonic Emblem, & Doug's Seated Half, nothing special here, but we are in hunt mode now and hope to have more to show before spring ! SLB
Minies & Relics Dug by Tom Bowen and Myself.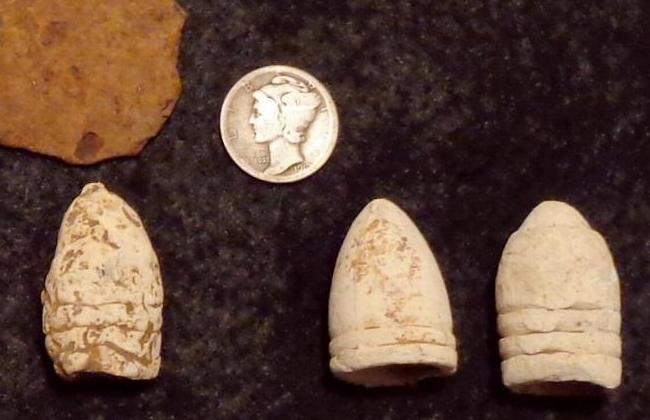 One of the .69s is a Rare Jenkins Ferry.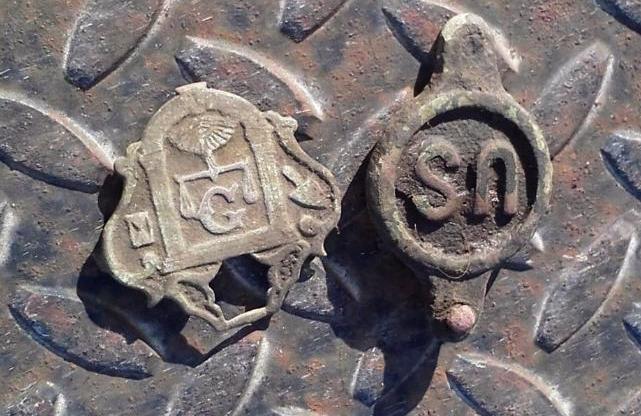 Doug Dorothy's Masonic Emblem & US Bit Boss.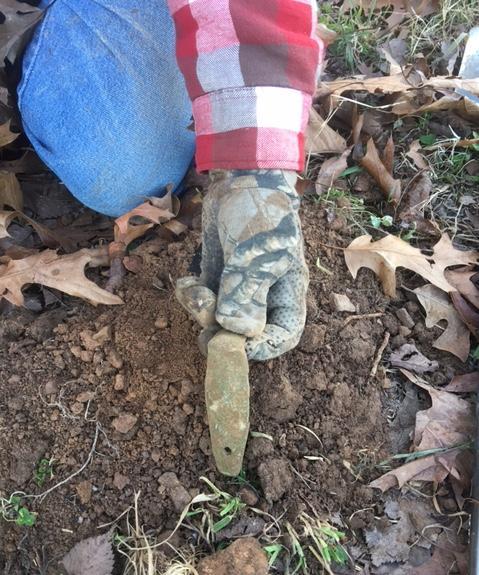 My brass civilian rifle butt plate.
Nice bunch of relics recovered by Doug Dorothy, including an 1854 Seated Liberty Half Dollar.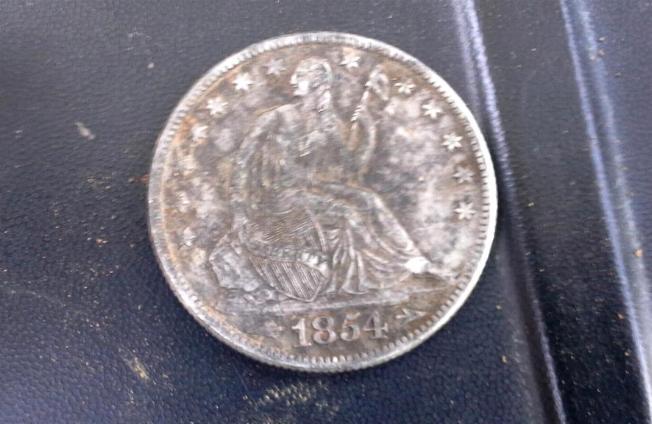 Nice bunch of relics recovered by Doug Dorothy, including an 1854 Seated Liberty Half Dollar.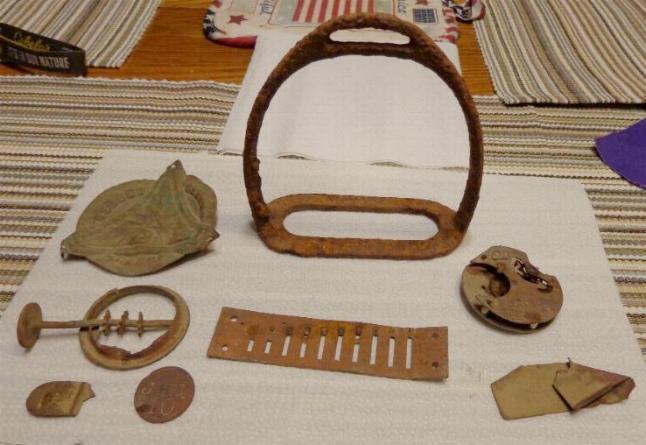 A few relics I dug at a an old housesite.
Website powered by Network Solutions®